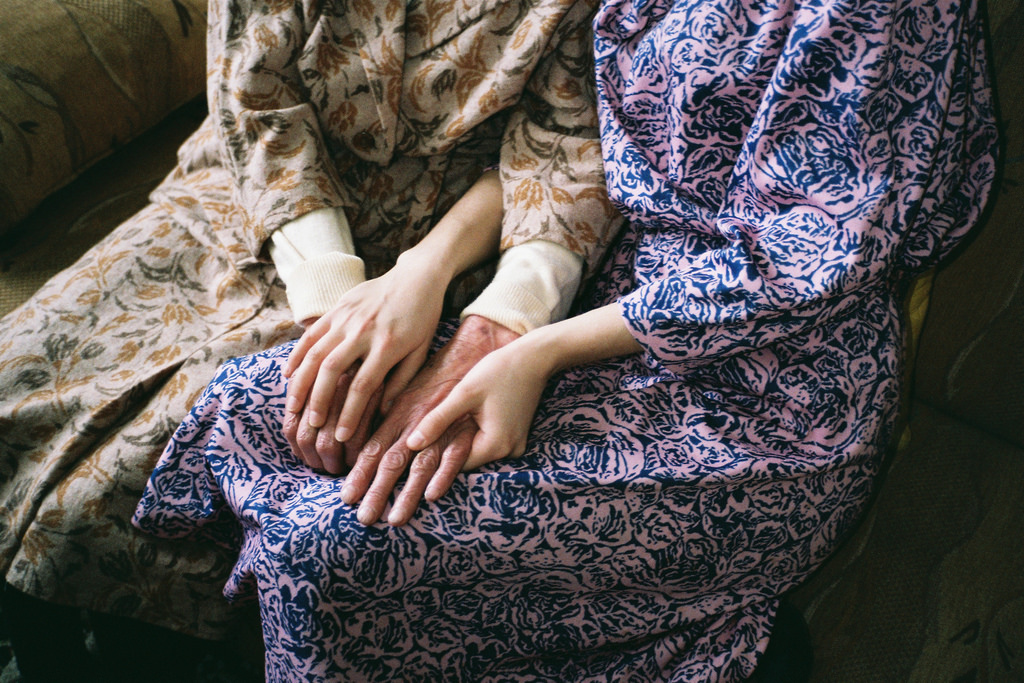 The ISIS Short Essay Competition: "O tell me the truth about love" (W.H. Auden).
by Lily Faust | March 10, 2015
Love cannot be just another Holocaust story! Or so my readers will surely exclaim in disbelief when I reveal that I wear love on my index finger. The ring is a symbol, I suppose, a small token of remembrance; it is a silver band which encloses a Star of David, purchased in the Jewish quarter of Vienna. Yet the trinket is painfully insufficient, for the lives of our dearest cannot be engraved upon mere metal.
Indeed, the ring is a recent acquisition, purchased upon the tide of bad news. For grief has a way of washing in unexpectedly and submerging the present moment. The news was delivered unexpectedly via phone call: "She passed away in the hospital. At least now her troubles are over." My father continued speaking, but the sounds buzzed in my ears as unfamiliar syllables blurred into each other in a shapeless haze.
Tuning back in, "At least she outlived her persecutors." That she did. A triumph, to say the least! You see, my darling Sonja had the misfortune of being born an Austrian Jew in 1926. She was sent to Belgium on a children's transport upon the outbreak of the war and lived with her family in hiding under Nazi occupation until they were apprehended by the Gestapo. In the summer of 1944, she was deported from a holding camp to Auschwitz, where she lingered until the end of the war, enduring starvation, slave labour, and all attempts to destroy her will to live; finally, her ordeal was put to rest when the camp was liberated by Soviet soldiers.
However, for decades after the war, Sonja kept silent about her experiences. My grandmother and Sonja were the closest of friends for over half a century, each raising their children among the post-war boom in New York. Yet Sonja did not wear her life story on her sleeve, despite the concentration camp number tattooed there. From the time I first met her, as a young child, she appeared vibrant – strong, charming, and loving, exactly as my beloved and deceased grandmother Sylvia had been. Our relationship was instantly familial. She took great joy in the simple pleasures of my childhood, from exhibiting new concepts learned in school to family visits to New York, which always included a visit to see "Tante Sonja".
As I grew, I underwent various stages of imagination and by the age of nine I was nursing the ambition of becoming a writer. Sonja took my youthful passion with great enthusiasm. Perhaps she grew wistful in the twilight of her life and perhaps she embraced my sheer precocious curiosity, but in any case, after years of silence, Sonja engaged me on a project: I was to be the first to document her life story.
My role seemed paramount, for I came to understand writing as a task combatting the ephemeral nature of life; it is regulated by a race against the clock to capture fleeting moments and record them in (hopefully) eternal words. To that extent, Sonja's story held the utmost importance, both as an individual record and as part and parcel of the history of our people. Preservation of her story seemed to be an obligation that I was undertaking, in line with the Jewish mandate to never forget our history.
However, the truth is that my notes sat gathering dust on the shelf for years; the recorder had been unsure of how to assemble them. Yet Sonja's death added poignancy and urgency to the matter, which appears as a great irony, because fundamentally, Sonja's story was not one of death, but one of life. It was not the filth, terror, or hopelessness of Auschwitz which resonated. Rather, I was moved by the fact that Sonja conquered the odds through a combination of not only luck but also love of life. In her own words, she managed to maintain her sanity specifically due to her love for her books and her love for her step-mother.
Now, those who survived the camps rarely did so alone. Critically, Tolstoy and Balzac were Sonja's friends during the war years. She relied on either procuring books or recalling her favourite novels to preserve an intellectual outlet. Further, she was able to maintain her relationship with her step-mother, Blanca. Upon the first selection at Auschwitz, an adolescent Sonja was pointed to the right to join the line of labourers and Blanca, who was approaching middle age, was pointed to the left, to the trucks headed, as suspected, to the gas chambers. Sonja begged the guard to spare Blanca, arguing that "her mother" was still in good health, and miraculously, he let both Blanca and Sonja both go to the right.
Even in the direst circumstances, Sonja's legacy confirms that love is found in celebrating life. Looking forwards, I do not know if any of the words I write will ever be able to do justice to her memory. Undoubtedly, Sonja's passing represents the end of a generation – the transition of a people's memory and its lost millions from those who experienced the Shoah firsthand to secondhand listeners and historians.
But the traditional Jewish injunction to remember continues. Coming from a secular Jewish family which has shed many of the trappings of religion but placed an almost sacred emphasis on cultural heritage, the duty to listen and record the stories of survivors remains crucial. Sonja's experience is extremely far removed from my own, yet my love for Sonja brought me back to my family's roots lost in a haze of death and refugee flight to a new land – to America. And my love for her is akin to my love for my grandmother and for my people. To the extent that these notions are larger than life, well, I can try to make sense of the splendorous feelings of love by looking towards my relationship with one deeply cherished individual.
Finally, I know that love is combined with a sense of noble purpose. The truth of the matter is that love cannot be encapsulated within a single dimension. It is a multifarious creature, living in stolen moments of time, from childhood dreams to contemporary recollections. Within my own transitory existence, it inhabits a vanished world, one which I wear upon my finger every day.
Shortlisted entry for The ISIS Short Essay Competition, Hilary 2015
"This essay bravely tackles a momentous subject, with much feeling… Tante Sonja is well registered, well  recorded." – Dame Margaret Drabble
"Highly poignant memories of a Holocaust survivor. Immensely sensitive, intelligent and moving." – Stephen Fry
"This one is the best for me, mainly because it is written with such quiet passion and with a sense both of the personal and the historical." – Andrew O'Hagan
Photo by Lukasz Wierzbowski