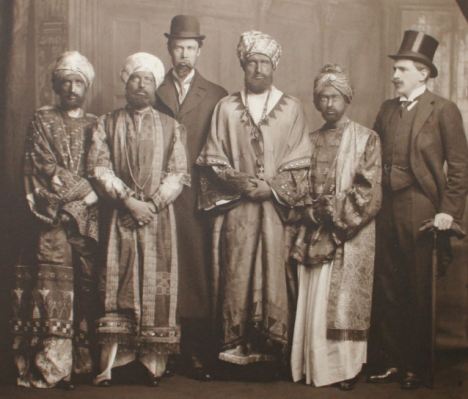 The Bloomsbury Set in Oxford
by Jazz Adamson | June 21, 2014
Several years ago, a descendant of one of the original recipients unearthed a letter describing the events of the 7th February 1910. This was the day of the Dreadnought Hoax, when Virginia Woolf and friends donned beards and costumes to disguise themselves as Abyssinian princes in order to dupe the admiral and gain access to the pride of the British naval fleet, HMS Dreadnought. Facing melting complexions in the rain and beards falling off during the meal, they were nonetheless granted the full treatment: a band played for their arrival and African flags fluttered on the masthead. Horace De Vere Cole, the writer of the letter, exclaims "It was glorious! Shriekingly funny – I nearly howled when introducing the four princes to the admiral and then to the captain, for I made their names up in the train, but I forgot which was which, and introduced them under various names, but it did not matter!"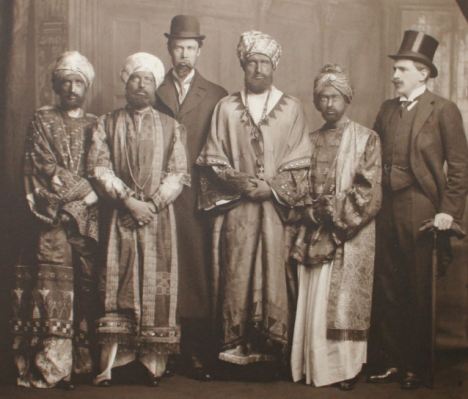 Discreet among the pastels of Broad Street is the monochrome Aidan Meller gallery. Specialising in secondary market exhibitions – works of art acquired through other dealers or private collectors – Broad Street Fine Paintings, dedicated mainly to Pre-Raphaelite art, is one of two Meller galleries. The other is on the High Street and deals in nineteenth century and modernist art, running an exhibition programme including works by Picasso, Chagall, Matisse and Miró. On the 20th of June until the 31st of July it will become host to The Bloomsbury Set; Life Among the Bohemians, an exhibition boasting original artworks by Duncan Grant, Roger Fry and Vanessa Bell.
The Bloomsbury Group, the intellectual set that spawned Virginia Woolf, were infamous contemporaneously for the way they lived. Comprised of artists, writers, and critics, they were not bound together in a formal sense but geographical: a group of extraordinarily talented friends who coalesced in the area surrounding the British Museum. They shared the notion of art's importance in life and progressive attitudes to romance. Several members had openly homosexual, bisexual and polygamous relationships: Vanessa Bell, Woolf's sister, had an affair with Duncan Grant, who was Lytton Strachey's cousin, and with whom she had a child. Lytton Strachey was in love with Duncan Grant, though he lived in a ménage a trois with the painter Dora Carrington and her husband Ralph Partridge. Virginia Woolf enjoyed a famous affair with Vita Sackville-West, referred to in her novel Orlando: a much more serious exploration of gender and sexuality than that which the Dreadnought Hoax gave rise to.
The group blurred the distinction between literature and the visual arts as much as they did concepts of male and female. In 1913 the Omega Workshop design enterprise was founded with the ethos that artists should create and market their own products. It created furniture and household accessories, and was generally to provide graphic expression to Bloomsbury principles. The now defunct Hogarth Press was set up four years later by Leonard and Virginia Woolf, after they bought a handpress and taught themselves how to use it. Both of these initiatives emphasised the importance of the artistic object; the venal item at the end of a creative process. Roger Fry believed form to be the most essential quality of a work of art and Clive Bell coined the term 'significant form' to describe the combination of line and colour that constitutes a work of art. When I asked Thomas Slingsby, the curator of the Aidan Meller exhibition, what he thought of this remarkable cult of the commodity his reply was fascinating: that modernism in the interval period of the twentieth century was about turning away from troubling realities and an aversion to context.
 And this is where Slingsby comes in. His job as curator is to tell the stories behind the work, explain "how Britain discovered post-Impressionism" and to "create a theatre in the gallery." In the sun-filled café that is the upstairs of Waterstones, he sat docilely with his legs crossed, the loose foot tapping the air and light winking on his glasses. Orange juice pushed aside he told me the story of how Duncan Grant met Paul Roche, an intriguing poet who would wear sailor suits and took pride in making himself look eighteen years old. Grant was crossing the road in Piccadilly Circus; in those days an area popular for gay men to meet. Catching the eye of a lithe young man waiting with his bicycle to cross the road, he asked Paul Roche if he was a fan of 'pictures'. Assuming Grant meant the cinema, Roche assented and was bundled into a taxi. They stopped off for a bottle of rum before getting out at the house of Edward Le Bas, painter and art collector. After an afternoon spent running amok among Cézannes and a few glasses of rum, Roche stopped in front of a Sickert painting and proclaimed – Slingsby giggles and looks at his hands before delivering the punch line – "that woman looks like a monkey!"
Slingsby's favourite piece in the exhibition is a series of sketches done by Grant in the 1940s. They are particularly special as they come from Roche's collection; he modelled for Grant on numerous occasions and it is thought that some of the sketches are of him. Slingsby calls it an "idealisation of the male form", a classical regard for the male physique, and points out the interesting ways Grant sketches the interlocked limbs. The exhibition is notable for the spread of work across the first half of the twentieth century. They have a set of woodcuts by Roger Fry that he did for a book entitled Polyphemus and other Poems, published by his friend, the poet Robert Trevelyan. Vanessa Bell's 1921 lithograph from the folio of Some Contemporary English Artists is also featured, as is Grant's 1945 illustration included in an edition of The Rime of the Ancient Mariner. It is an insight into the aesthetics of the Bloomsbury Group – their ability to merge art and literature like osmosis. I struggle to think of a way to put it and Slingsby, smiling, offers me one of his favourite quotes about Virginia Woolf: that she was "trying to do a literary impressionism." He explains the endeavour behind the exhibition as thinking about this "the other way round" – how the culture of debate influenced visual art, changing the way we categorise the arts forever. As Aidan Meller has it, "this exhibition offers audiences a chance to enjoy the heady atmosphere of debate and innovation that characterised Bloomsbury as it took Britain into a brave new world of modernism."