A Cannes Diary
by Rosie Robinson | June 5, 2023
Attending the Cannes Film Festival has long been a dream of mine, and became a particular goal of my year abroad, so much so that I craftily positioned myself in the South of France for the second half of my year, just twenty minutes from Cannes. So, when I was finally walking along La Croisette (albeit with rain clouds looming overhead), with a lanyard firmly around my neck, I couldn't quite believe I'd made it.
You might be wondering how I managed this – I know, I thought that Cannes was reserved only for the crème de la crème of cinema, for glitzy red carpet stars, and I thought my best bet for getting in was to volunteer. However, there are actually lots of ways of getting involved, depending on what you're after (and volunteering doesn't really seem to be one of them), so read on if you fancy trying your luck in one of the coming years…
 If you're a big old fan of cinema and want nothing more than to see some of the year's most anticipated films before others can, nab yourself a cinephile pass. There are two streams for this – anyone of any age can get a cinephile's pass, which allows you access to cinephile screenings only, so you won't be getting into the Palais, or seeing any premieres – but if you just want to see films, this is perfect.
Possibly more fun is the '3 days in Cannes' option. It's open for 18-28-year-olds, and you come along for three days during the festival where you have access to everything that industry members can access too. You have to write a page long essay on why you deserve one of these passes, outlining your love of cinema, and make sure to send it off early because spaces fill up!
Initially, I applied for a 3-day pass. However, I ended up cancelling my application and punting for an industry pass. I was attending with three friends who are all professionals in film and TV, and was worried that, being a student and not an industry professional, there was no way I'd be able to acquire such a pass. Luckily, it seems that if you have made short films which have qualified for festivals, you count as industry! So, if that's you – go for it! I couldn't recommend it more. None of these three options cost more than 25 euros, and if you're not granted an accreditation, you get your money back. A precluding factor is of course travel and accommodation costs and availability, so if you receive a pass, get in and book quickly! Going with three friends made a big difference in accommodation costs, and we managed to book a well-situated Airbnb for four nights without breaking the bank. (They then stayed with me along the coast for a few days of sunshine afterwards, but we did sneak back into Cannes to catch a couple more films.)
So, once in, the next question was: what to see? The choice was enormous and quite overwhelming, as was the Cannes website, which crashed the first day when every pass holder and their wife logged in at 06:55 (or 05:55 for my friends in the UK). Most events disappear within about 0.002 seconds, but through a combination of blind luck, determination and constant website checking throughout the festival days, my pals and I managed to get into six brilliant films over the 4 days we were there. It would have been more than possible to see more, but we chose a slightly more civilised pace of life than four or five films a day, instead having lazy mornings recovering from nights at the various bars Cannes had to offer, nursing our blistered feet and sore heads, and heading out for croissants and a swim on our local beach.
Luckily for us, all the films we ended up seeing were great. Watching with little to no expectation, we were often pleasantly surprised. On our first night, we'd managed to bag a premiere for Marie Amachoukell's Ama Gloria. This felt a bit like the French equivalent of the previous year's Aftersun, telling a very moving story of a little girl's final summer with her long-term nanny and quasi-mother figure who has to move back to her home country. Indeed, childhood and parental relations seemed to be a theme of many of the films in the festival (or at least the ones that we saw). Next up was Monster, a particular highlight. This new film from Hirokazu Koru-eda tells a slowly unfolding mystery from various viewpoints – a concerned mother, a teacher, a child's perspective, gradually leading you towards a devastating truth. It was touching and troubling and you never quite knew where it was going – keep your eyes peeled for when it becomes available to watch.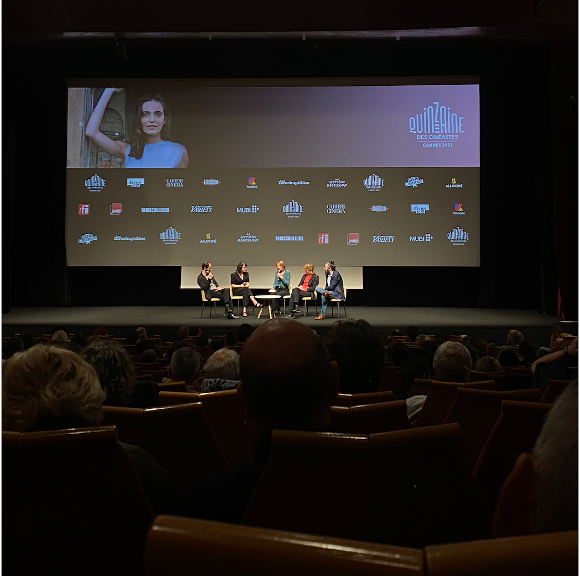 Perdidos en la Noche by Amat Escalante was beautifully shot, although a rather very stressful watch and a Jewish BDSM comedy from Joanna Arnow, The Feeling That The Time For Doing Something Has Passedwas genuinely hilarious, and also very brave.  The premiere was followed by a Q&A with the writer-director, who also starred in it, and was naked for a large part of the film. Very excitingly, after my friends left I somehow bagged a ticket to see the new Wes Anderson film, Asteroid City in the Grand Lumière Theatre, at which I got to walk the red carpet (very underdressed). This was, surprisingly, my least favourite watch of the festival, possibly because I tend to like his films a lot, and had high expectations.
My favourites of the festival were the last two that my friends and I watched as a group: Four Daughters, a fiction-documentary fusion by Kaouther Ben Hania, and Molly Manning Walker's How to Have Sex, one of the only British films selected. In the first, the documentary maker replaces a Muslim mother's two eldest, missing daughters with actors who resemble them – the result is an astonishing exploration of faith, womanhood and the mother-daughter relationship. The second, now recipient of the 'Un Certain Regard' prize, is the story of a girls' trip gone wrong. With a brilliant performance from Mia McKenna Bruce (those with taste will recognise her from CBBC's Tracy Beaker Returns), this is a sobering and all-too-real depiction of sexual assault and its repercussions – it'll be coming to Mubi soon, so really do keep an eye out for it.
Outside of the films themselves, memorable moments of the festival included (in no particular order): getting papped while in our finery, spotting Cate Blanchett in the wild, and accosting a certain BBC Film & Television correspondent at a bar after one drink too many (sorry Ali!). The beaches themselves are just lovely, and you can find some delicious food – the bagels at 'Welcome to Key West' are a must-have, and if you want a chill evening make sure to head to the open-air beach cinema, which has free showings every day at 9:30 pm. Do Cannes Film Festival, you won't regret it!
Words by Rosie Robinson.
Photography by Rosie Robinson.