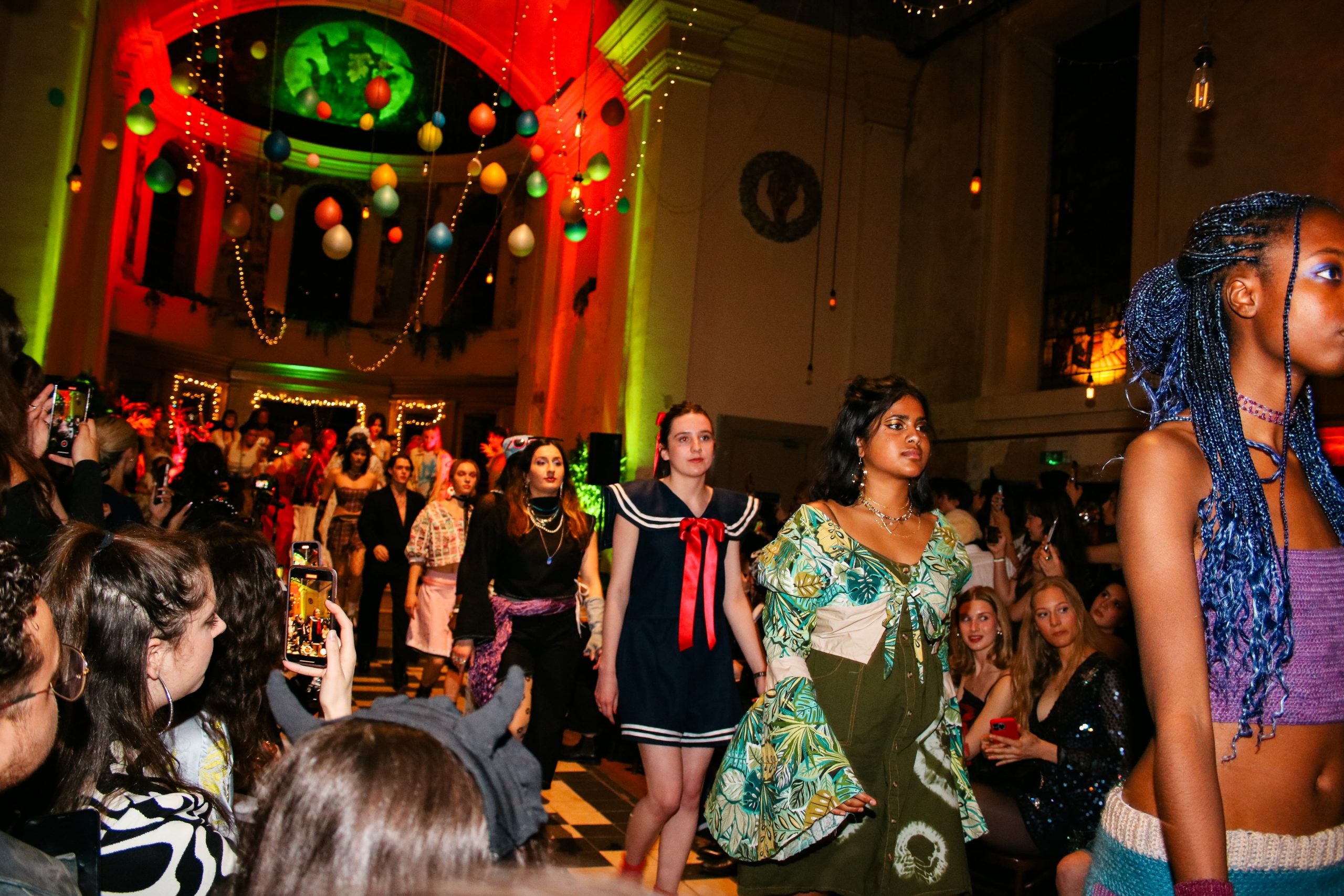 Westwood Ho! Or, the Oxford Fashion Gala 2023
by Shao-Yi Wong, Alexander Archer | May 8, 2023
It's eight in the evening on 2 May: around thirty half-dressed, slightly less than half-made up models are huddled in a jumbled queue, slowly moving up the steps into Freud. The bouncers have just kicked everyone out of the venue in order to check their IDs (venue regulations halt for no fashion gala), and everyone is now making the most of a last breath of fresh air before the ceremonies begin, delicately shored in the grey warmth of the evening. Everyone has a vague sense that the audience is going to start arriving soon. Owing to scheduling difficulties, a dress rehearsal has already taken place, but none of the models are dressed yet. Between the chaos of the preparatory period and the carnage of the gala proper, this is the only real moment of serenity to be found.
This is the second ever Oxford Fashion Gala, a new, hopefully permanent, annual fixture in the Oxford calendar. Converging around the prompt "BUY LESS CHOOSE WELL" – a quote from the late grande dame of punk, Vivienne Westwood – fifteen or so designers have come together to present a wild variety of designs, all cobbled together from bits and pieces they have dredged from parents' wardrobes, old BOP outfits, charity shops various, and – heaven knows – Gloucester Green Market. Anything goes, so long as it's been chosen well. Variegated as they are, the collections are united by a marriage of everyday comfort and unapologetic ostentation. These ensembles would not look out of place in the world of the theatre. Some are held together by something so ergonomic as elasticated waistbands. "They're very comfy." Model Pippa Conlon tugs appreciatively at the waistband of her shorts. She moves with ease in the navy blue sailor suit, which, according to designer Lydia McKimm, is inspired by the French schoolboy aesthetic. You may think it more along the lines of Sailor Moon meets the 80s power suit, but dutifully look up the real source of inspiration, a French new wave film, and you will better appreciate the vision. A love for ready-to-wear pervades the rest of the night.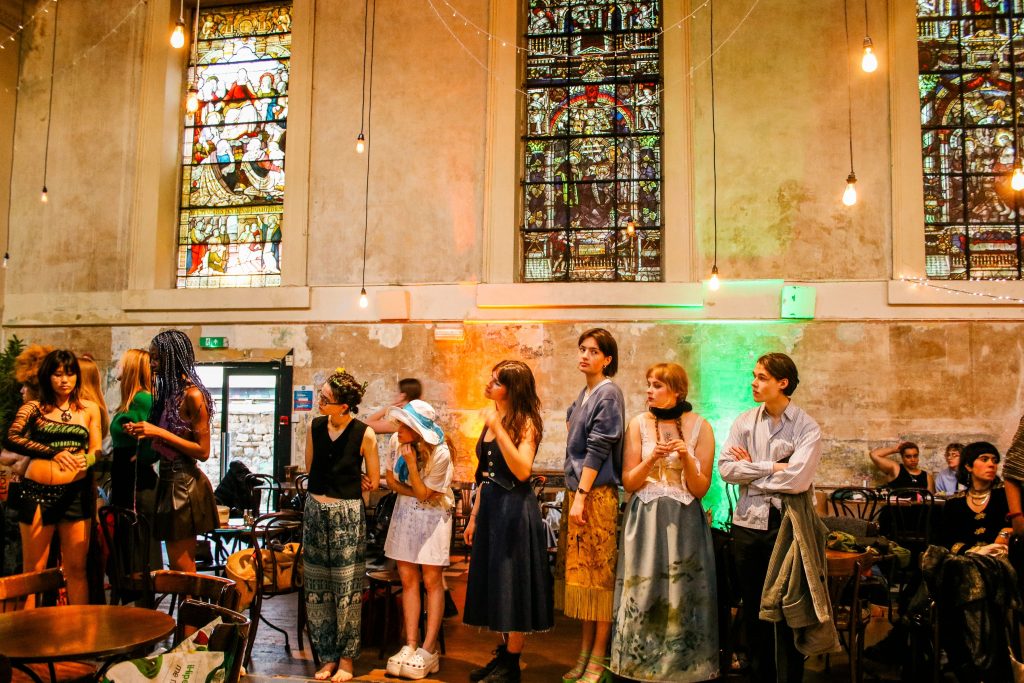 Many of the designers, who have only ever made clothes for themselves, end up modelling their own designs during the show, and that the catwalk itself is not a raised platform but rather a ground-level, straight path from one end of Freud to the other. The audience is elevated to the same vertical plane as the models, and you have an event seemingly in defiance of the conventional hierarchies of the fashion world. In this day and age, with social media, a fashion show's audience is basically as much on-show as its models, and the Oxford Fashion Gala leans into this by foregrounding the audience as a considerable part of the action. All audience members have been encouraged to heed the good Dame Westwood's words, and they more than deliver. Everyone is unabashedly, if eclectically, well-dressed. Forget your summer balls, this is the sartorial event of the season. Sadly, it's probably the only event where the men are as put together as the women. No one present is quite CSM enough to commit fully to the 'I just rolled through an Oxfam while covered in superglue' look, but perhaps this is for the better. Standout ensembles include: Girl with the Pearl Headband –an exquisite headband, positively architectural dress. Vision of white tulle with black lattice detail – very mock Tudor building. Lad with vintage hair scarf and cat eye sunnies – it's giving Grace Kelly. More broadly, other outfits coalesce into unlikely constellations. Hats galore: animal ears, Victorian bonnets, Soviet-era trapper hats. It's a serendipitous moment when four near-identical fur hats appear in a two-metre radius. There's also a real passion for the medieval – chainmail gauntlets, reliquaries et cetera echo Freud's own stained-glass windows.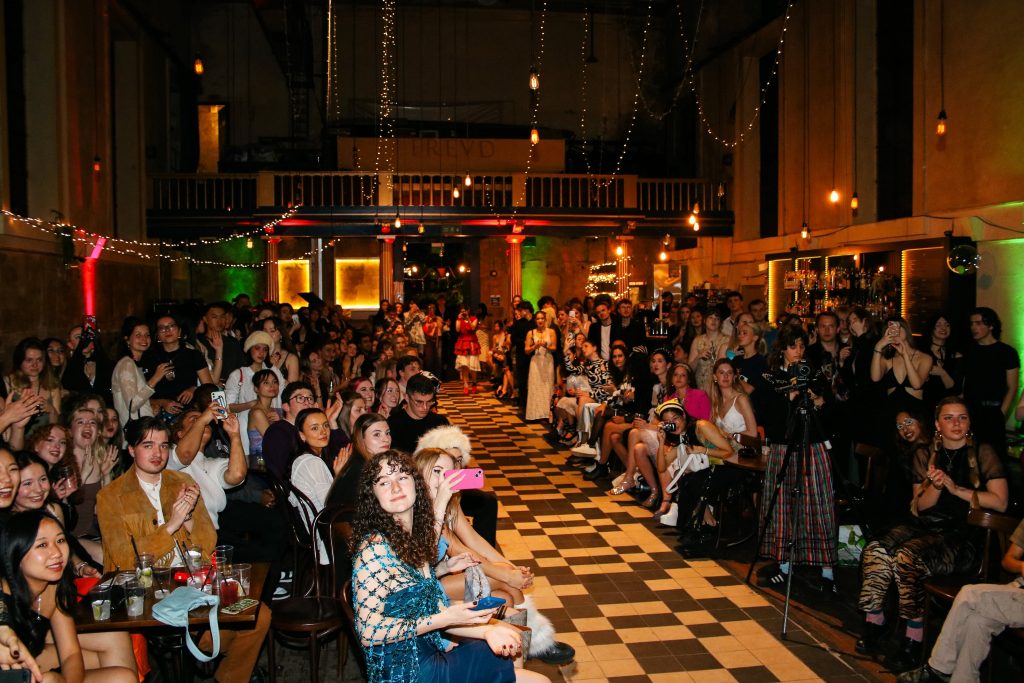 The gala is structured into three, clearly defined parts: the preamble, the show, and the party. After the models make it back into Freud, they rush off to have the finishing touches applied to them. The audience begins to arrive; they have an hour or so to fight over catwalk-side chairs before the show begins. There's finally the chance to interview the designers and take a proper look at the collections.
Take for instance the collection by Rosa Bonnin. A denim vest and maxi skirt – so evocative of 60s Americana – are studded with pearls which radiate like so many stars from collar and hem. Hand-drawn hare and flowers flit across an all-white ensemble of culottes, oversized button-up, and summer hat. Rosa patchworks shades of blue and white into swathes of sky and sea. An unmistakable air of the ethereal surrounds these clothes, which is fitting, since the idea for the denim number came to her à la dream vision. Yet these clothes were ultimately designed for everyday wear. After the gala, every item will be integrated into Rosa's own closet. The models' styling heralds the shift: chunky platform crocs and mismatched buttons infuse woodland core with a playful anachronism. If JACQUEMUS and Laura Ashley had a love child, it would look something like this.
The clothes by Momo Ueda, too, traverse the bounds of fantastical and familiar. Approaching her in the last flurry of show preparation ("I'm sure most fashion shows are held together by scissors and safety pins!") proves chaotic but fruitful. The designer is understandably distracted and her back is to us, so there's ample time to admire the design on her quilted jacket. A many-eyed figure (biblically accurate angel?), a collage of black and white fabric scraps, grins up at me. We can't help but smile back. Momo's talent for melding small scraps into an intricate whole translates into her designs. Her diaphanous mini dress, a blaze of autumnal colour composed entirely of gold-filigreed, hand-stitched leaves is mesmerising. Like Rosa, Momo has plans to don this outfit on the streets of Oxford.
Invariably, conversation turns to the question of sustainability. Unlike the heavy handed and, let's face it, tokenistic attempts often made by big corporations, these designers are sincere about their endeavour. Momo explains that most of the leaf dress is constructed from scraps of fabric leftover from previous projects. Too small to be useful in other contexts, the leaf-making started as an idea for a pair of earrings, and quickly morphed into something far more ambitious. Rosa's designs are borne from old bedding. When she isn't shopping her grandmother's extensive collection of bed linens, she hunts for patterned sheets in charity shops. The sumptuously embroidered blue hem on that sun hat is testament to the beauty of her method.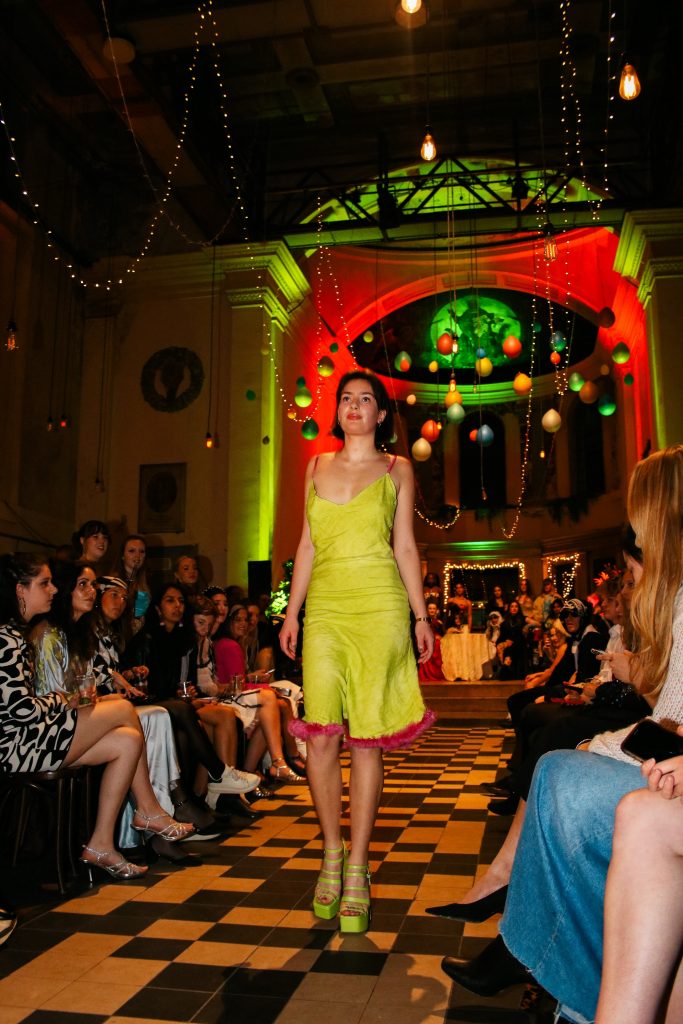 The creative directors, Shaan and Harvey, move through the bustle, trying to clear bodies off the performance space. (A word on Shaan and Harvey: the former has a background in modelling, the latter has a background in set design – a trajectory not without its irony, given its noticeable similarity to that of Derek Jarman, who had a notorious and caustic public falling-out with V*vienne W*stwood…) Models practise their walks in the loo vestibule. A girl in six-inch heels topples over after an unfortunate encounter with a rogue Kånken on the floor. She escapes, largely unscathed, from this encounter. And then, the show begins.
Kate Bush's Babooshka starts playing, and the first model appears. One of the gala's slightly unconventional moves is to have the models pause their walks twice to briefly pose, doing so at either end of the catwalk before walking back along to Freud's apse and becoming part of a large, slightly raised tableau vivant scene. The scene in question plays with the idea of an interior of a home – a sitting room, specifically – and fills up with more and more models in various domestic positions as the show progresses. By the end of the show, all the models are gathered on stage in an intricately detailed, almost painterly composition, each visually rooted in the context of one another. It's like a beautiful, maximalist version of a Simpsons couch gag: from afar, the designs all seem to fit together like the brushstrokes of an impressionist painting, creating a patchwork image which seems to intensify each discrete component of itself. There's a slight pathos to the image of all these salvaged clothes, reclaimed bits of sartorial flotsam, gathered in an aesthetic framing meant to conjure up cultural ideas of domesticity, security, and wholeness.
When the last model has entered the image, it shatters, and they all then walk back along the catwalk in quick succession, eventually making their way backstage again. The crowd let out great roars of appreciation. The designers and organisers then take the stage to a final burst of rapturous, party-anticipatory applause; and then the show is over. We have now reached the party stage of the evening, and a new DJ takes the stage (takes the apse?) to make sure this fact is registered. Immediately, the room drastically empties as over half of Oxford's fashion population experience the collective need for a cigarette.
The rest of the night goes like pretty much any night in Freud – people drink, dance, and stage escalating assaults on their outfits to make them more party-ready. The creative directors have now cleverly positioned themselves near radiators, so any further attempts at badgering them for statements are doomed to end in sweat and/or heatstroke. The gala has, by all accounts, been a great triumph. Even the designers, most of whom are now hurtling around, attempting to prise odds and ends of clothing off errant models, seem in a good mood. As things wind to a close, and everyone realises they haven't eaten in hours and starts to think about hobbling home, there is a sense of general jubilation and excitement – excitement about what the future holds for Oxford's fashion world. If this year is anything to go by, next year's gala will be unmissable.
Words by Alexander Archer and Shao-Yi Wong. Photography by Coco Cottam.