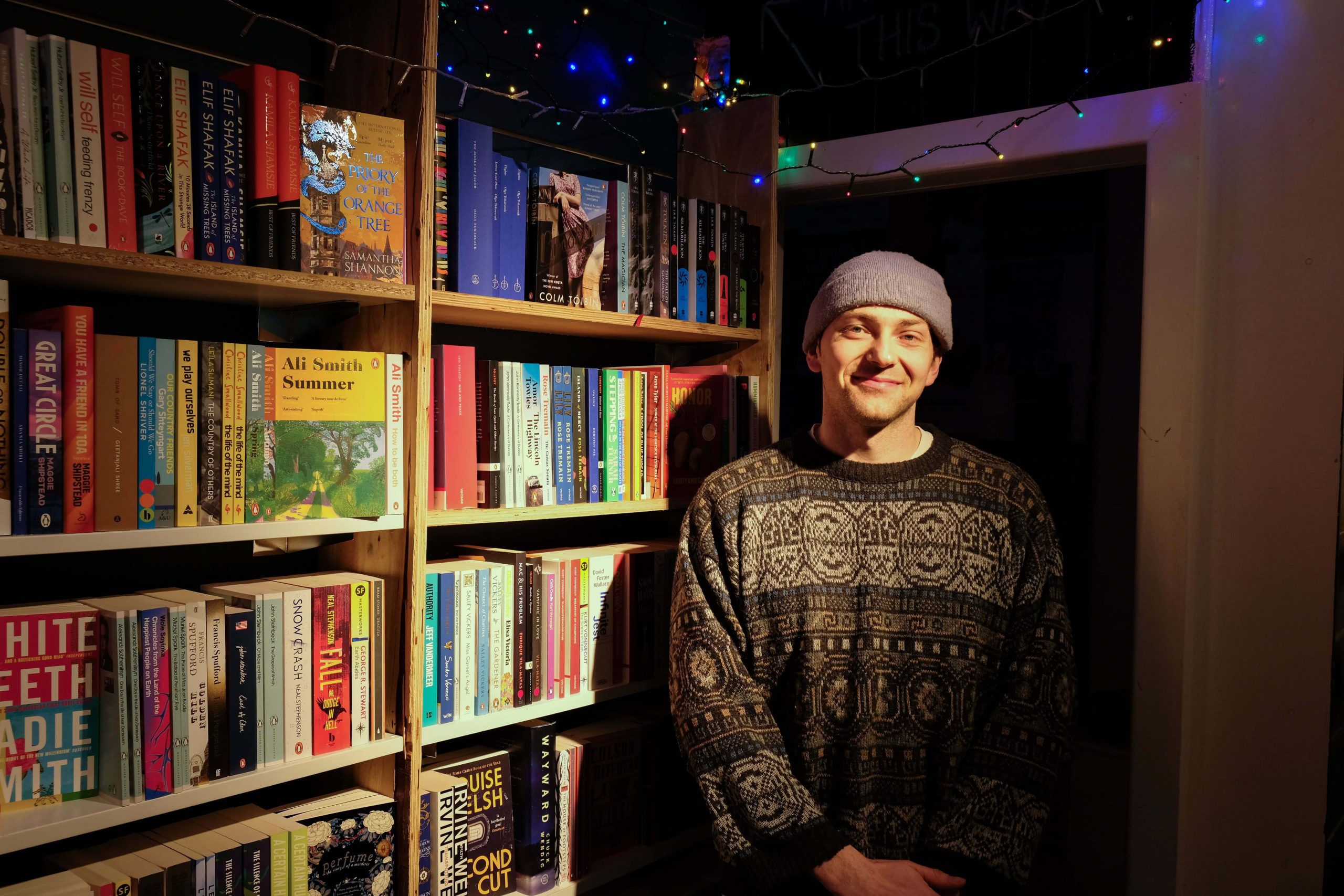 The Isis interviews Oliver Mason, Founder of Gulp Fiction
by Clemmie Read | February 24, 2023
Gulp Fiction probably doesn't need an introduction for readers of The Isis. A new place in the Covered Market? A bookshop? A café? A pub? Oxford students would be sold on just one of those things. All four is the stuff of fantasy (or my Pinterest boards, at least). How did we get so lucky?
I ask this of Oliver Mason, the owner, "director, founder, main employee" – he starts laughing as the list goes on – one morning before opening time. He tells me there's nothing fantastical about it: as is evident at Blackwell's and Waterstone's, the bookshop-café model "makes a lot of sense." This is true in the UK especially, because the government doesn't tax books, and coffee "always makes a lot of sense business-wise, because you can sell lots of it and people are addicted to it." Coffee and books are a natural pairing, it turns out, because they are on complementary annual schedules. "In Oxford, you're probably going to have lower coffee sales in December – the students go home. At that point, it's the books' busiest time because it's Christmas. Then you take summer, when you guys go away and the tourists are here, and it's vice versa. So in February, we're selling a lot of coffee because you guys are all here but not many people buy books. They support each other because of that flow – when the book sales die down, the coffee sales speed up. This is a university town, and it has a very specific way of doing things. This business is built primarily around that Oxfordian schedule."
Currently, the big attraction – along with an enjoyable aesthetic he describes as "a little bit of French café, bohemian, eclectic" – is that if you buy a book on the display tables, you get a free coffee. It's hard to argue with that. On the tables, the customer will find "books which are new, which are fresh, which are interesting. Or on our Staff table, books which might not be new but I would recommend to people in vast quantities because I know that they're good and I believe in them, or even those I haven't read but I know we should have because they're current." For Mason, recommending and promoting books is a highlight of the job: "when people walk into this bookshop, I speak to people, I recommend things that I want to recommend, and I also get people asking me for help. And that's my favourite thing – tailoring a recommendation, that's what gets me up in the morning." He seeks range in his book selection, though he does have some reservations. He won't buy crime because his customers don't read it, and neither does he, so he couldn't be of as much help. If true crime is not his jam, what is? "Fiction – it will always be fiction. I like things that are weird, creepy, unusual, or strange. But I just read Before the Coffee Gets Cold, and I loved that, and that's really cute! That's our bestseller now. It's about a time-travelling café in Japan. It's four interconnected short stories and it's beautiful, heartfelt, and tender. Well-wrought, well-thought-out, and a really charming look at time travel: a lot of time-travel narratives are based on the idea that you go back, and something changes, and then it affects the future. The whole point of this café is you go back and you speak to someone, and it changes nothing. And I thought that was such a good idea, and it worked so well." It sounds delightful, so I say I'll get a copy on my way out. He reminds me I'll get a free coffee with it, and I'm sold.
Gulp Fiction has a curious origin story. Mason got his start as a bookseller in Bath, after leaving Falmouth University, first at Topping & Company, which he enigmatically calls "…unique," then at Waterstones. He moved to Oxford in the hope of working for Blackwell's, but accidentally applied for the Westgate Blackwell's instead and accepted the job before he found out. ("Where's the Westgate Blackwells? That exists?" I ask; "I know! This is what everyone says!") But he arrived in February 2020, and worked on and off in lockdown, having to pay for his flat alone after a "lockdown breakup." To make ends meet, he started delivering UberEats. Everything changed when Uber emailed its riders about a competition for young entrepreneurs, and Mason sent them his business plan for what would become Gulp Fiction. This idea had been brewing for a while: "I've always wanted to start my own bookshop, and I always wanted to make a pub-café-bookshop hybrid. That was on the cards for years. It was originally going to be in a bus. But then that turned out to be a lot more expensive." So he applied, entered into a "Dragon's Den-style competition," and won a "hefty grant" from Uber. This grant, along with a start-up loan from the government and a grant from MakeSpace, an Oxford-based social enterprise which turns derelict units into "functioning, forward-facing social-based businesses," allowed him to open Gulp Fiction in the Covered Market. It was MakeSpace –­ which he came across when Zoom-bombing council meetings ­­– which found him this prime location, "because I was going to do something that was going to revivify Oxford a little bit, especially the Covered Market."
He looks forward to the drastic upcoming changes to the Covered Market, especially considering he's renewed his lease for the next five years. He imagines the £7 million investment, mainly on exterior work to open the space up, will make it more similar to Borough Market in London, with more open areas for sitting down. Most importantly, the market will start opening late from April, until 10–11 pm. He agrees with my complaint that it currently shuts "freakishly early" and says it will make the alcohol offering a bigger part of the business, allowing Gulp Fiction's jazz and poetry nights to be at night for a change. This also means "if it's Finals or something, we'll be able to do coffee and tea later. For the evening work shift – we'll be here for the students because I think they really lack somewhere that does decent coffee at that time."
From its large returning customer base to its weekly student events, Gulp Fiction has already become a key part of the Covered Market and the Oxford community as a whole. "It is student-heavy, but it's lovely because we've got such a varied crowd. In the morning I get lots of older people, people who live here, young urban professionals. I get such a broad spread of people, and that's exactly what I wanted." Mason is keen that the shop's charity work goes back into the community: he donates half the sales of the used books he buys, and all the sales from donated books. "I would want to reflect the charity work that we do in the customer base that we have. That makes sense to me." At the moment, that means supporting women's charities, especially as a male-owned business whose demographic is largely female: "in bookselling generally, the vast majority of readers will be women. They read more, write more, and are more interested in literature generally. I wouldn't say that's a great leap or big statement, because it's just evident. So that's why giving back is really important." Beyond that, he hopes to support Oxfordshire-based charities, and in May will be supporting Pride, "because a lot of our demographic is queer – it's good to show support to the people that support us."
With a successful business on his hands, Mason is inundated with questions about his game-plan for expansion: "My plan is to grow this, make it as beautiful and as brilliant as I can, get it to the point where it's really flying, and then…let it continue. Let it be this beautiful little jewel in the middle of Oxford. Maybe don't expand into other cities, maybe don't open up bigger units or anything. If it needs to grow, that will be something to look at then. But for the moment, it's just making the space as good as it can be, for as long as it can." He is a bookseller before he is a businessman: "I'm happy for this to be the thing that I do, instead of getting a manager and becoming a hands-off owner. I'm happy to just be here, pretty much every day, until I'm not. That's the plan." His tentative ambitions are in authorship instead: he finds novel-writing to be incompatible with running a full-time business, but he is working on a collection of short stories. Don't look out for it, though, because Mason insists "that if I published something, I'd prefer not to use my own name. I find it easier to write if I don't attribute it to myself." It feels a lot healthier to have "writing I want completely removed from my ego. My worst nightmare is any sort of mediocre fame or notoriety – I hate it."
Part of the ethos of the shop is that reading should be as removed from self-involvement and pretension as writing. "Gulp Fiction" is a pun his dad came up with. "It's fun, it's silly, and I really just want to get away from all the pretentiousness in bookselling or café culture. The thing that I care about most is that when people walk in they feel welcome. That's the most important thing to me. And I think we've done that pretty well. I think the name helps." Because it's a bit silly, I clarify? "It's a bit silly, and I'm a bit silly, and the business is a bit silly." Reading, and reading the "right" things, can be an alienating experience, but "my dad is the most important person in my life, and he is so dyslexic that he hasn't ever really read a book, so I don't have it in me to alienate people who struggle to read, can't read, or don't like to read, because that's the opposite of my experience. My family will never be the people who read books, and I always have, so I never really got the alienation or the elitism, it's just something that I enjoy and do. And I really do think that books are a form of entertainment, primarily, and a form of expressing oneself, and I think that using those things to alienate people or make them feel like they're underread is juvenile."
And so Gulp Fiction is on a mission to expand reading into a communal endeavour, plugged into student life and social enterprise. Running a fantasy-worthy bookshop-café, giving back to the community – I've never heard anyone sound so fulfilled, so entirely in tune with their vocation. "I honestly think, when people ask me 'do you enjoy it?,' I really do think I have the best life I could have possibly made for myself. I can't see myself having a better life than this. I have complete contentment in what I do." ∎
Words by Clemmie Read. Photography by InChan Yang.