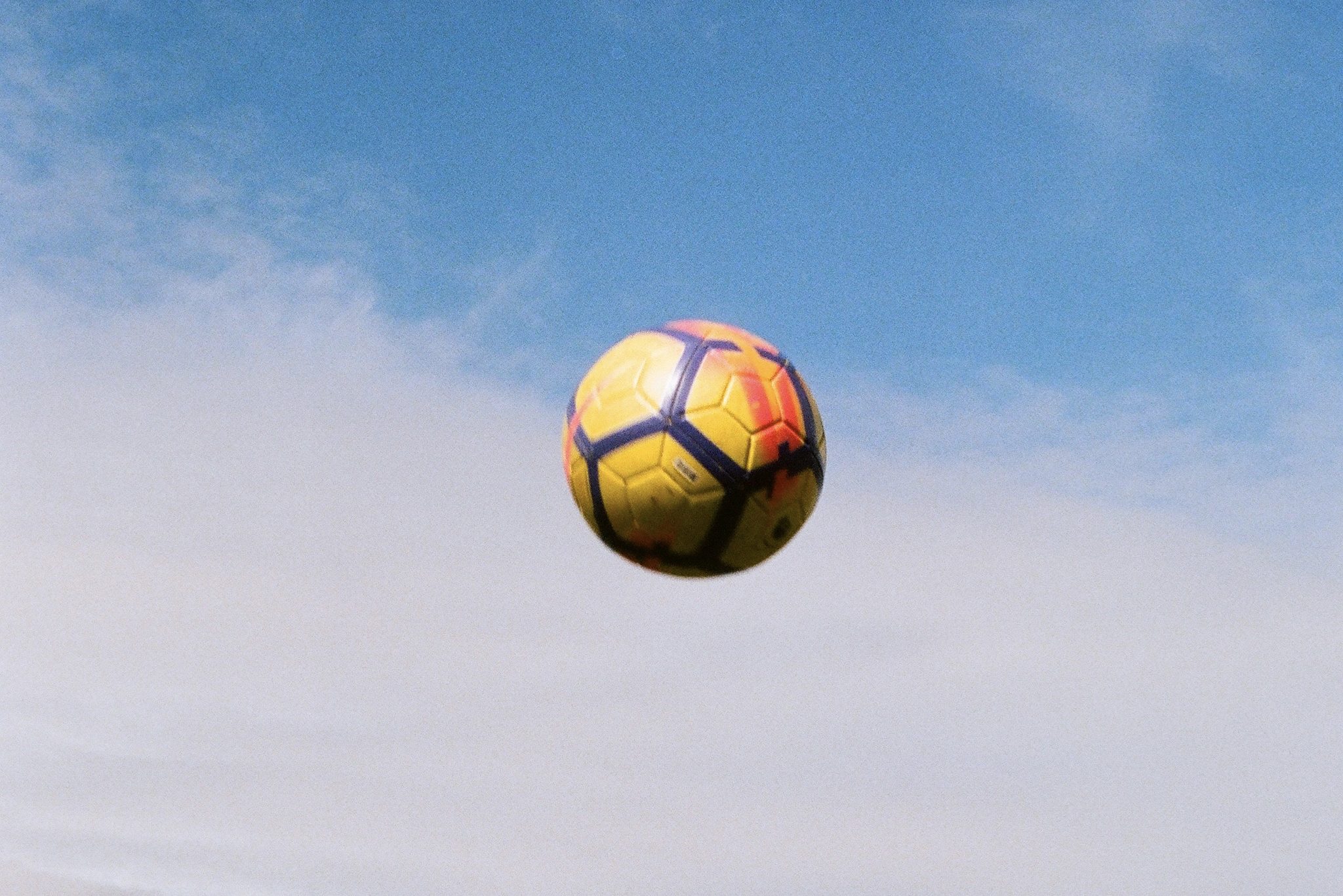 It's Not Just A Game
by Oliver Garrett | June 14, 2019
During a trip in 2018 by Fifa's president, Gianni Infantino, to Iran, 35 women were arrested for trying to enter a stadium for a match between Persepolis and Esteghlal.
Julia Pilkington
I only started playing a year ago but I really love it. I feel like learning and falling on my arse and making an idiot of myself has been so good for me, it's made me realise how I think there's so much more shame attached to being bad at stuff if you're a woman* and the problem is you only ever learn by starting off by being bad. So, yeah, dignity is overrated. I've also finally stopped saying sorry when I tackle someone. All skills that are pretty useful off the pitch.
In 2014 The FA announced a policy, as well as an information guide distributed to all clubs, to encourage trans people to participate in football.
When Rachel Yankey made her England debut at 17, she was handed an extra-large men's kit – she's 5ft 4in.
Claudia French
I was never really aware of my gender at Arsenal games – I think a lot of that was due to the fact my mother has always been a huge fan, so I never really saw it as a 'boys' sport'. In fact, Arsenal was always integral to bonding with my family – the way I connected with my brothers and shared my first beer with my dad. I've always felt something innately democratising about being in the stadium – one of the thousands rallying behind your team; a fan – regardless of gender, race or class. But I think as I grew up, I was increasingly exposed to the feeling that my fandom was made more negligible by my gender – that I knew less than the men next to me, that I was less passionate, that I was only there for male attention.
Sports are rigidly sex-segregated… It's part of the reason why non-binary athletes and activists are pushing for change at more local levels (high schools, colleges), hoping their advocacy can find a way to trickle out, downward, and up.
I think we need people like David Beckham talking about stuff like this. It can't just be gay people talking about sexuality, or black people talking about racism.
Ellie Oppenheim
Football is typically a male domain. Even the women in our college football team are referred to as 'our catz girls' by the men. I consciously set up Oxford ballers as a way to combat this – reclaiming a space for women and non-binary people in Oxford. [Oxford Ballers is a 5 a side football team for women* and non-binary people and was set up by Ellie in Autumn 2018]
Historically women have gone from men's team hand-me-downs to women's-fit versions of those designs worn by their male counterparts.
Being a female in a predominantly male sport, I have had my fair share of criticism, but funnily enough it's never about my footballing ability – it's usually something else – whether it's gender, race or sexuality.
Elliot Frame
As a non-binary person, sport can be hard to negotiate. It's one of the few areas where gender segregation is strict, so denying and erasing your identity can be necessary to take part. Ballers is the first sport team I found that specifically includes non-binary people based on self-identification. I have never felt out of place, I can't overstate the impact of that for me.
Vatican launches women's football team with pope's blessing
Sports are rigidly sex-segregated… It's part of the reason why non-binary athletes and activists are pushing for change at more local levels (high schools, colleges), hoping their advocacy can find a way to trickle out, downward, and up.
Kitty Low
I started playing football when I got to university, very sporadically. When I started I was astonished by how good everyone is: most schools have little or no provisions for women's football, and everyone else on the team is amazing. They don't care when I miss a shot
Just what our country needs!" rails the imam sarcastically on Libyan TV. "A women's football team! And what's more, they chose tall, young beautiful girls for the team – and for months their legs will be exposed."
The intersection of two of football's major prejudices; sexism and homophobia.
Lore Vleugels
The football pitch was the first environment in which I felt safe, where I could be myself and where everyone accepted me for who I was. When I was having a hard time coming out, these girls made me feel comfortable and supported me from the very beginning. Whenever I needed someone to talk to, they had my back. Winning the university cup three years in a row as team captain of my faculty's team was one of my greatest accomplishments. Football is a big part of my life and I wouldn't want to live without it.
What do we learn from an interview on national television with a person saying they don't like the sound of a women's voice on TV during football, and that it hurts their ears?
Her much-loved pink whistle makes a return for the game – a nod to the woman she's always been… "When I blow that whistle today I can finally be myself. I've waited a lifetime for that."
Flora Clark
In a place like oxford where everyone is so good at everything, football has been so nice because you're allowed to be bad at it. I hadn't played since primary school, but everyone was accepting. Though individuals might be unsure of their own ability, in a match everything and everyone comes together. We're collectively competitive, but no-one is competitive with each other.
Photography and Arrangement by Oliver Garrett.