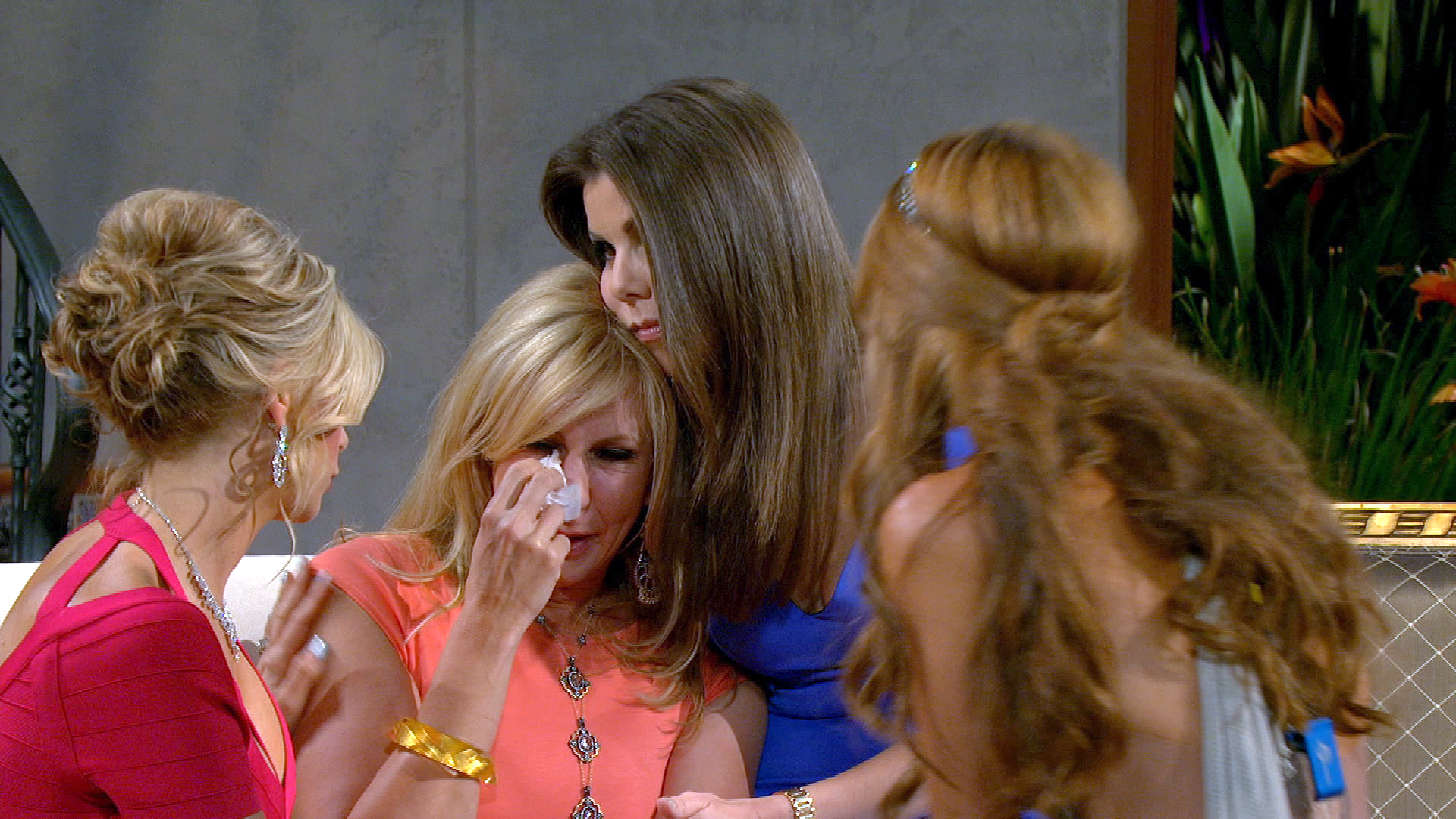 Not an Apology: The Real Housewives and Me
by Vincent Chabany-Douarre | September 1, 2016
I have, in true Housewives fashion, only one thing to say to you. I regret nothing.
This is no cautionary tale. I will make you see the light.
Nobody plans on catching The Real Housewives fever. But after a friend showed me an episode one summer day, I got it, and I got it bad. Before I knew it, I had opinions about Heather Dubrow's house. I had intense feelings about Camille Grammer rising like a phoenix. I had questions about Yolanda's Münchhausen disease (send me yours!). How was I alive before this?
The premise is simple enough: we follow a group of rich middle-aged women, peering into both everyday moments and big life changes, such as marriages, divorces, or even death. We also capture their interactions with each other, from drunken nights out to vicious fights. I binged a whole season of Beverley Hills and was there for it. Soon they were on a break, so I moved on to New York. Then some Orange County. Dipped my toe in Atlanta. Went to spin-offs, like Vanderpump Rules, and other shows that Bravo produces, like Southern Charm. I listened religiously to Casey Wilson and Danielle Schneider's podcast, Bitch Sesh, which breaks down these shows. Shamelessly joined the Bitch Sesh by Alene Too: A Real Podcast Breakdown Facebook group. Found a family.
There are many reasons for watching The Housewives. Some are pretty innocent, like wish fulfilment. Do I want to stare at my dingy dorm room and discount rug any longer? No! Give me Yolanda Foster's transparent fridge—self-modelled and fit for a god, a fridge so awe-inspiring it has its own Twitter account—or give me death! Alas, the world is unkind to Housewives viewers.  And you get used to this scorn. We have all had a boyfriend, girlfriend, loved one, or even a stranger who has sneered at us for following the Housewives, so much so it only made us watch more. If you interrupt me during one of Luann's cocaine-fuelled rants about her fiancé, we are done!
One of the more common attacks levelled against the show is that it is a fifty-year regression for feminism and female representation. And I empathize with this point of view: as a gay man I am always hyper-aware of the way minorities are represented (which is probably why I would like to set the cast of Glee on fire). It is often assumed that the Housewives are brainless puppets for our entertainment, manipulating these women for our entertainment. But what has always struck me is how much these women actually get to control the narrative.
One of the many markers of middle age is divorce, and so it is a recurrent plot device in Housewives. It is easy to take for granted that women can freely express the pain, sorrow or betrayal they feel in the outcome of a relationship, as in Beyoncé's excellent visual album Lemonade. But when looking at more mainstream forms of entertainment, female characters are more often than not depicted through the eyes of men to satisfy men, something that is almost completely absent from the Housewives. Their reactions to their divorces are their own, their emotions are their own, and if they are crafted to resonate with anybody, it is to resonate with a female audience.
This is not to say that the show boldly promotes feminism, but its participants undoubtedly benefit from a form of agency so many platforms refuse to grant women. Just look at Tamra Barney, who was put through hell by her husband Simon during their very messy divorce. As he faded away from the camera, she got to tell her side of the story, his voice small and dissident in comparison. Allowing Tamra to expose her unfiltered narrative was almost a political act, a privilege usually offered almost exclusively to men.
Another issue often addressed when speaking of feminism and Housewives is that we are not projecting an image of women building a solid community through kinship, which is true. But to this I would respond: so what?
The show is heavily edited and produced, and most of the petty drama is agreed upon, and then faked. These women aren't crying themselves to sleep because they didn't get invited to a party. Fuelling their media relevancy through these histrionics allows them to make bank, not only thanks to the money they're paid to be on the show, but also because it allows them to promote their brands and products (Gretchen Christine Beauté anyone?). After all, one of the goals of feminism is to acquire economic freedom. For these women to guarantee their own economic independence by capitalizing on society's expectations of femininity is almost poetic.
Yes, we're not seeing these women interact kindly with each other most of the time. But do we have to? Should women always be seen as earth-goddesses braiding each other's hair around a campfire? If feminism is about anything, it is about choice. So who's to say we should see women band together? Is that not arguing that women only have power in numbers, and reinforcing the construct that women are made to nurture? Why can't we have women as selfish as men, as hateful as they want to be?
And even if you disagree with this, the idea of a lack of community spirit is challenged when you look at the reception of the Housewives. The Facebook group I am a part of, Bitch Sesh By Alene Too: A Real Podcast Breakdown, unites about nine thousand fans in a podcast that dissects the show. The group was created to bring together fans of the franchise, but the real takeaway is that most posts describe a feeling of comfort within this community, complaining about their hard days and stating that they have found a haven here. The community came in real life motion before and after a live show, when fans met up and formed friendships documented on the Facebook page. And the most common and recurrent hashtag, #safespace, captures what the Housewives can mean to feminism: a bridge from one woman (or gay man) to another.
I just can't help but defend these shows. They are seen as immoral, classless, brainless, and apparently a herald for the end of our culture. The extent of this vitriol has always taken me aback. Are we so wrong to watch this? Are we that evil? The answer is no. And the explanation as to the excessive hate the Housewives attract comes from these shows being marketed towards women.
Many sports, for example, entertain ideas of hyper-masculinity, and allow an unsettling amount of alleged, accused or convicted rapists to play on national television. And yet, they are rarely framed as destructive to the fabric of society, instead commonly described as a community-building baseline. This is also true, but we are quick to vilify one thing and ignore another's most uncomfortable aspects depending on which gender is watching. When comparing the violence surrounding sports, such as hooliganism, and the minor fallout of the Housewives franchise, I can't help but cast myself back to a quote by Margaret Atwood: "Men are afraid that women will laugh at them. Women are afraid that men will kill them."
It is easy to dismiss the Housewives; to assume that a heavily made-up middle-aged woman who's willing to appear on television is as dumb as a dodo. It is a common trope. But take a minute to ask yourself, why? Is it truly because you find them stupid, or because you just assume that they are? And if you do is it because they put effort into their appearance? Because they choose to embrace their own form of femininity, which is their right? Is it because you find older women expressing a healthy sexual interest unsettling?
It is easy to forget that Bethenny Frankel created a market-leading brand. That Lisa Vanderpump was and remains a successful club and restaurant owner, her business savvy making up for her terrible food. That Carole Radziwill won a Peabody award for her investigative journalism on landmines in Cambodia. I'm not saying that this show is a feminist landmark. I'm not saying that all of these women will be remembered as brilliant social scientists. Or that if you don't like them, that you're a misogynist. What I'm saying is that we must constantly question our biases surrounding entertainment culture, both regarding those who produce and consume it, rather than just engage in groupthink.
As you can probably tell, I have a soft spot for the Housewives. These beasts have been with me through so much. I gave a forty-minute talk in Lincoln College about how they related to Sylvia Plath's heritage. My favourite date this year was spent talking some poor man's ear off about some very hot Beverley Hills drama, and I didn't seem to care that he had never watched the show. I could see the light fading in his eyes, but I kept defending Vicki Gunvalson. In that moment, totally ignoring my date's thoughts or feelings, I was alive. Vicki was by my side. And in the end, isn't that what life is all about?
Lisa Rinna gently taking a box of photographs out of her aging father's hands and stating, "And then it hit me. I'm the adult now", made me call my grandmother. Every time I miss my mother I remember Kyle Richards telling her eldest daughter Alexia when she moved to college, "you can always come back." Seeing these women manage their divorces and children reminded me that even if, like my mother and father, I did one day get divorced, I'd be alright. It also made me appreciate how hard my parents worked at keeping it all together.
Right now, I am between apartments, freshly broken-up with, waiting to get on a new course, reluctant to go outside, and admittedly, a little lost. Things will get better, but in the meantime, if I ever feel lonely, if I ever want some comfort, I know where to go. I can drink rosé with Lisa, clip on bangs with Giselle, be cool with the Countess, work out with Tamra or twirl with Kenya.
These women are there for me, and I'm there for them. So let's raise our glass to the ladies who lunch, because we're not going anywhere.