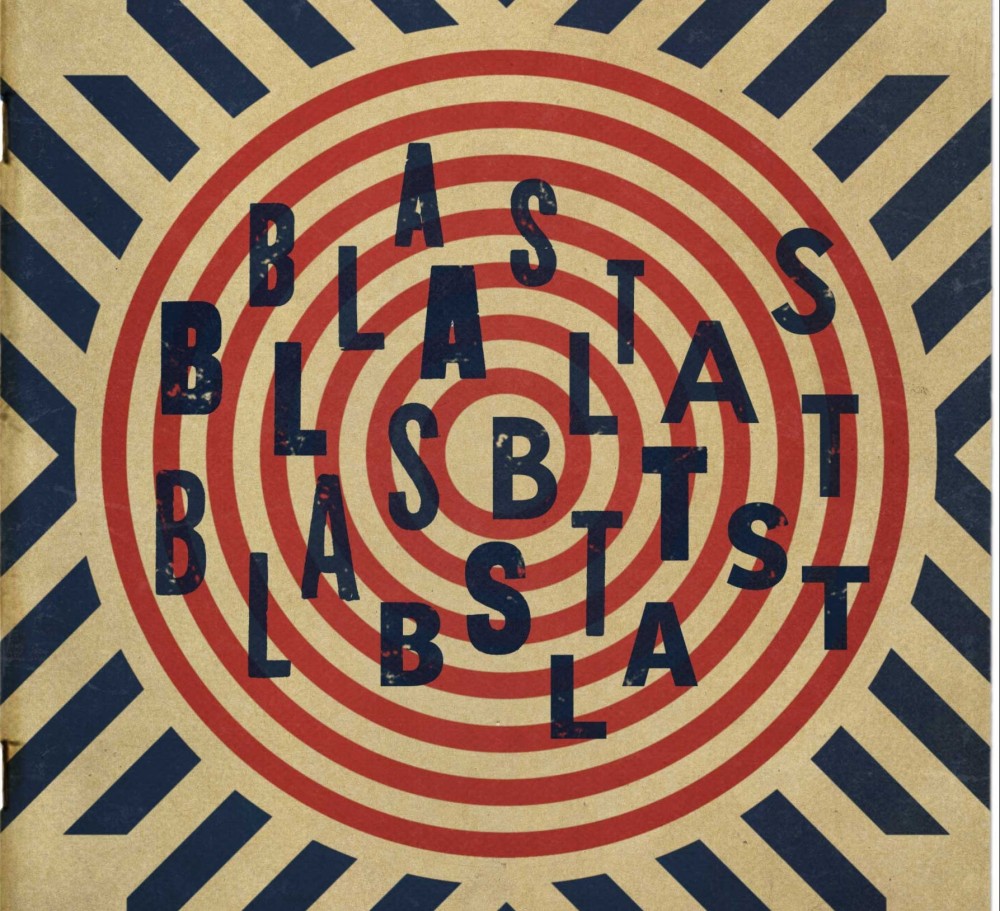 Vorticism: The Fascist Art Movement?
by Ieuan Perkins, Steve Wright | June 10, 2015
As the title of its manifesto Blast! might suggest, Vorticism was a movement born out of opposition. Wyndham Lewis formed Vorticism at his workshop, the aptly named Rebel Art Centre, following a feud with Roger Fry and his Omega Workshop. Ezra Pound, who named and supported Vorticism, became involved after a fierce dispute with Amy Lowell, and his estrangement from the Imagist group. In this respect Vorticism's genesis was not unlike that of the British Union of Fascists, which formed because of Mosley's dissatisfaction with mainstream British politics.
Everything about Vorticism was generated from this blasting attitude. Its aims were to capture the immediacy of movement and the crude energy of the world in visual art and poetry. It embraced modernity and technology, desiring the destruction of all forms of convention and tradition that stood in the way of these ideals. The first edition of Blast! called for the obliteration of:
The Post Office, The Bishop of London, Codliver Oil, the years 1837 – 1900, the British Academy, the ("abysmal inexcusable") middle-class, "wild Nature cranks fraternizing with monkey diabolicals", and various other bizarre and banal choices.
But the First World War claimed the lives of several of the movement's contributors, interrupted the publication of a third Blast! edition, and left those who survived disillusioned with Vorticism's embrace of technology. The movement ceased to exist by 1920 yet it did have some lasting influence. It published poems by T.S. Eliot, increased the profile of various artists who went on to have successful careers, and Blast!'s distinctive typographical style had considerable influence in the 1920's.
When we look at Vorticism from a modern perspective, our view is inevitably coloured by developments following the break-up of the movement. By the 1930's both Lewis and Pound had declared their support for European fascism. Lewis wrote Hitler, a study of the German dictator, which described him as a "man of peace", and, despite his rejection of fascism by 1939, this tarred Lewis's reputation for the remainder of his life. In 1933 Vorticism's other central force, Ezra Pound, finally met Mussolini and subsequently broadcast anti-Semitic propaganda for the Italian regime prior to and during the Second World War.
In this light, Vorticism seems to pre-configure the later fascist developments of its two originators, and the larger fascist movement in Britain generally. The signs were there: Vorticism had claimed to "present an avenue for all those violent ideas that could reach the public in no other way." Alongside this, Vorticism was widely considered a derivation of Italian Futurism, which became intimately associated with Fascism when its political party was absorbed into Mussolini's Fascist movement in 1919. These fascistic links, and the movement's revolutionary attitude, are enough to claim that Vorticism constituted Britain's fascist artistic movement. Once this is established, the parallels between Vorticism and British fascism's failures become glaringly clear. Both offered violence and revolution to a public who desired stability and order, and both movements felt like Italian imports: distant, obscure, and foreign.
Reconsidering and re-evaluating the art and aesthetic of Vorticism therefore encounters one central issue: Do we consider its relationship with fascism? Vorticism is a movement born out of the volatility of ideology in the early twentieth century. But can we reconcile our appreciation of Vorticism, with proto-fascism at the core of its beliefs, while still honouring the claim made by the anti-fascist plaque in Dock Street:
"They shall not pass"