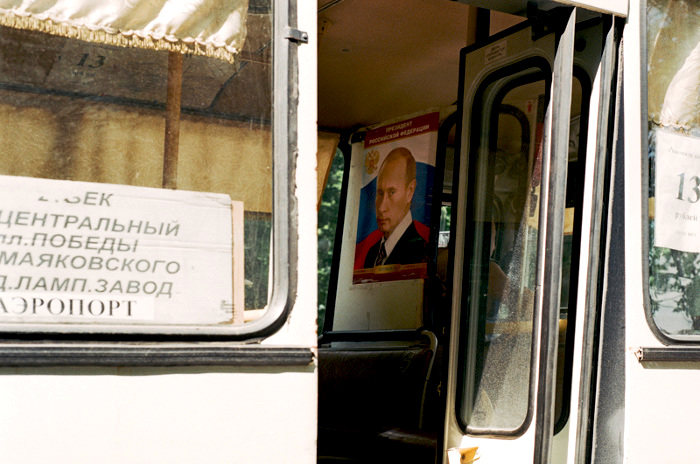 The Twelve Days of Putinmas
by Marianna Hunt | December 24, 2014
Pale Siberian dawn filters through the window onto a slumbering, slightly-balding head as day breaks on, no – not 25th December, but 7th October 2014. Forget Yuletide revelry, today this slumbering head of state will be celebrating his 62nd birthday.
Heaven forbid that celebrations be restricted to a mere day. For many a day now, the people of Russia have been revelling in the festivities – making merry, kicking up their proverbial heels, and gaily raising a glass to the Kremlin's favourite lodger.
This is hardly surprising when questionnaires regularly show that more than one third of adult Russians consider Vladimir Vladimirovich Putin to be a moral authority and figure of respect. An attitude that is particularly prevalent following Mr. Putin's success in the Crimea this year, along with his defiant reaction to Western sanctions, which has caused his eternally high ratings to skyrocket off the slabs of Red Square.
These indicators appear to support Western accusations of the Kremlin propaganda and the conscious crafting of a Putin cult. But perhaps more importantly, with previous birthday gifts including a tiger cub and his own replica tsarist crown, will 2014's tributes from his devoted subjects measure up for Mr. Putin.
On the first day of Putin-mas, my people gave to me…
A toast.
How better to toast the birthday boy than with his own novelty vodka? The brand was named Путинка [Pootinka] as an affectionate, diminutive form of the President's name. With its winning combination of 40% acerbic ethanol, 60% essence of loveable, caring President, Путинка has remained in the top five of the best selling Russian vodka brands since its creation.
On the second day of Putin-mas, my people gave to me…
My very own comic: Super Putin -A Man Like Any Other
The image of President Putin as a martial arts, superhero figure has long been integral to his political image, and has now also been integrated into his birthday celebrations.
Just imagine the taglines…"Vladimir Vladimirovich – saves the world and manages to have time to re-organise the Kremlin's desk stationary." Who wouldn't buy it?
On the third day of Putin-mas my people gave to me…
A photographic exhibition in Moscow.
Continuing the hero theme, "The 12 Labours of Vladimir Putin" features a Herculean vision of the Russian principal. In one display, our glorious leader is depicted valiantly taming an ox representing the Crimea.
Succeeding the Ukraine-themed illustrations is the capture of a three-headed dog Cerberus, embodying the United States. Such an anti-Western culmination of the exhibition provided food for thought, food that was equally difficult to swallow.
On the fourth day of Putin-mas my people gave to me…
A bit of a sing-along.
A Russian children's choir wished Mr. Putin the happiest of days with a birthday message and festive video, hoping the "strength of his kind heart prevails".
The power of music, Euro-pop, and young, cherubic faces is nothing new to Putin HQ. In 2002, three of the President's most dedicated female fans released a techo-pop ballad 'Такого как Путин', [A man like Putin]. The song swiftly topped the Russian charts and became a Putin theme song, still played during his rallies.
It begs the question, perhaps all David Cameron needs for an 80% approval rating is a catchy tune and choice sprinkling of charming choristers…
On the fifth day of Putin-mas my people gave to me…
A birthday banner. And a bit of an ego-boost.
"Impolite People", a pro-Kremlin art group, draped a giant banner off of a Moscow bridge opposite the Kremlin in celebration of Mr Putin. The banner depicted President Obama wearing a Putin shirt that said, "Happy birthday global daddy".
The use of Obama as the butt of pro-Putin jokes is a common phenomenon in the personality cult of Mr. Putin. One that appeared on Facebook goes as follows:
"Obama called Putin, Putin turned on his automatic-answering machine. The auto-reply answers:
"Hello, you're calling the president of Russia, Putin. Unfortunately, I'm not able to answer you now.
If you want to surrender, press: 1.
If you want to threaten me with new sanctions, press: 2.
If you want to discuss the situation in the Ukraine, press: 3.
All buttons except 1 activate our intercontinental rockets Topol-M, good luck!"".
That such jokes are openly found amusing in Russia suggests that attempts to thaw relations and bring about progress between the West and the heart of the former USSR may have all been in vain.
On the sixth day of Putin-mas my people gave to me…
A flag, of sorts.
Thousands in Grozny, Chechnya, gathered to show their dedication to Mr. Putin by forming an almost 2,000-foot-long Russian flag with their bodies. Others carried a 600m-long Russian flag through the streets in celebration of their leader.
So, correction: two flags. 2014 is certainly proving a windfall year for presents.
On the seventh day of Putin-mas my people gave to me…
A religion.
Believing Putin to be the reincarnation of both Grand Prince Vladimir of Rus, founder of the Russian Orthodox Church, and St. Paul the Apostle, Svetlana Frolova, the leader of a convent in the village of Bolshaya Yelnya, created a religion based around the birthday boy.
Founded after Frolova was jailed for fraud in 1996, the sect sneeks into the list, pre-existing this year's celebrations. It appears unlikely, however, that zealous Svetlana will have overlooked the birthday festivities. We can only imagine the party hats at her particular celebration…
On the eighth day of Putin-mas my people gave to me…
A cosy sweatshirt.
Red Square's luxurious shopping-centre, GUM, saw people waiting in up to two hour long queues in quest for T-shirts bearing our old friend Vladimir's face on them.
Not content with simply t-shirts, a host of other memorabilia was on offer, including $75 sweatshirts showing the Kremlin's sweet-heart and Russia's main man at his manliest of moments.
On the ninth day of Putin-mas my people gave to me…
A pat on the back.
In eulogy of the Russian premier, analysis centre, Gosindeks, created an infographic of Putin's achievements during 15 years of presidency. With more than 550 listings, the total length of the infographic was in excess of 40 feet.
On the tenth day of Putin-mas my people gave to me…

A public day of rest.
It has been suggested that October 7th should be made a public holiday in honour of Putin's successes, especially the annexation of Crimea. The day would also applaud the efforts of the "вежливые люди", or "polite people", i.e. the soldiers who facilitated the recent Russian takeover of the Ukrainian region.
Igor Zotov, the Duma deputy behind this brainchild, claims to have been inspired by a visit to Crimea and his conversations with grateful locals. In the words of Mr Zotov himself, "Putin is the most polite person there could be, he personifies the image of politeness, not just in Russia but everywhere".
Critics have argued that such a holiday would glorify those responsible for the takeover of Ukrainian territory and enhance the idolizing nature of the relationship of the Russian nation towards their leader.
On the eleventh day of Putin-mas, my people gave to me…
My own day off.
This year, for the first time in 15 years, the dutiful President finally took a day off for his birthday.
That this time was used to engage in an abundance of testosterone-charged, outdoor activities was also not overlooked. In fact, it has become almost a challenge to avoid seeing macho, half-naked photos of Red Square's hard-as-nails-hard-man deep in the Russian woodlands.
On the twelfth day of Putin-mas, my people gave to me..
.
Some privacy.
Putin, in fact, spent the holiday secreted in the remote sanctuary of the Siberian forests approximately 300-400km from the nearest populated area. And, by all accounts, this leafy cloak of mystery is the best present that the President could have wished for while blowing out the candles of his торт [cake] this year.
The Russian premier's fondness for privacy is notorious. Navigating the stormy seas of taboo subjects and averting the perilously crashing waves of gossip on Russia's first family certainly is a hazardous course. Grigory Nekhoroshev, editor of Moskovsky Korrespondent, reported in 2008 that Putin intended to marry Russian gymnast, Alina Kabayeva. Nekhoroshev was forced to resign within hours, while the newspaper, Moskovsky Korrespondent, fared even worse: never appearing again. Their fate illustrates the dangers of steering too close to Putin's private shores.
At a press conference in Sardinia, Putin's reply to queries about Kabayeva sent the inquirer packing: "I always disliked people who go around with their erotic fantasies, sticking their snot-ridden noses into another person's life." Silvio Berlusconi, also present, proceeded to pretend to shoot the journalist in question. The gesture is indicative of the strict regulation of Mr Putin's image and stands as a warning to others daring enough to brave such waters.
'Twas the night before Putin-mas…?
However, before we break into choruses of "Twas the night before Putin-mas, when all through the dacha…", and take the presidential propaganda and personality cult at face-value, we must questioned how much the Russian people truly buy into the "glorious myth" of their leader. Is Russian involvement in this idol culture is simply indulgent satire?
In reality, many of the anecdotes, folklore stories and memorabilia radiating from Putin-HQ seem to be saturated with irony. For instance: novelty Putin toilet paper hardly coincides with the worshipful personality cult of a respected and adored leader.
Moreover, the Super Putin comic not only pokes fun at the President's macho love of judo and Medvedev's penchant for gadgets and gizmos, but describes Mr. Putin as a "man like any other – but suffers from it". Can the transformation of the supposedly august and mighty leader into a puppy dog-eyed figure of sympathy, that also fights zombies on a daily basis, really be without the slightest hint of irony?
Sweat-shirts plastered with the President's face and bearing the slogan "King of Russia" must be being taken with a pinch of salt. While ones sporting the phrase "Holiday in the Crimea", and a George Michael circa Club Tropicana-esque vision of Putin, require something more akin to a bucketful of salt. They are perhaps more self-deprecating jokes on the nature of propaganda, than an indicator of a brain-washed population.
Who knows, perhaps this could be an amusing government repartee to criticism over propaganda and myth-making? After all, it must be difficult for journalists to mount, with an appropriate level of sobriety, an attack against the giant printed face of a balding 62-year old, clad in a Hawaiian shirt.